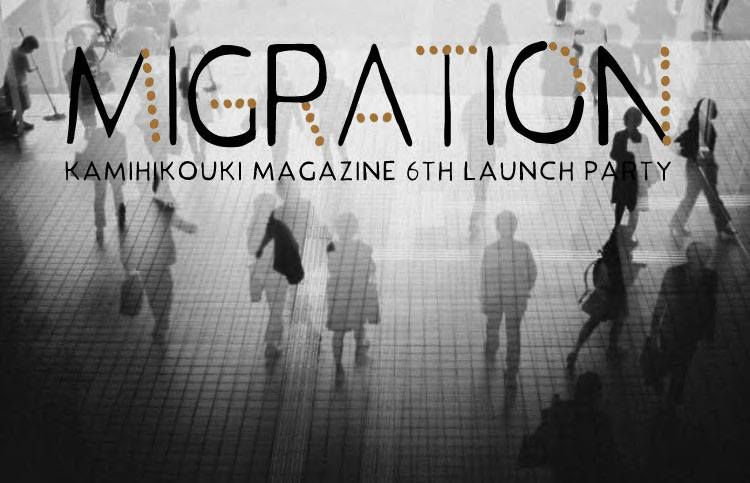 < English and set list below! >
バイリンガルなリトルプレス「紙ひこうきマガジン」第6号「マイグレーション/移住・渡り」の完成記念リリースパーティー!
どんな方でも大歓迎☆地域で活動するアーティストたち、アートに興味のある人たちと一緒にたのしい夜を過ごしませんか?日時:2016年3月13日(日)18:00〜
場所:PINE BROOKLYN
JR環状線福島駅より徒歩5分
チケット:2,000円
紙ひこうきマガジン最新号1冊、1ドリンク付
☆☆☆☆☆☆☆☆☆☆☆☆☆☆☆☆☆☆☆☆☆☆☆☆☆☆☆☆☆☆☆☆☆
Kamihikouki Magazine's sixth issue, Migration, will be making its journey to the printer soon, so you know what that means – it's almost time to party! Migrate over to Fukushima and join our flock of artists and enthusiasts for the usual mix of performance, creativity, and debauchery. See you there!
When: Sunday, March 13th from 18:00
Where: PINE BROOKLYN
(a 5 minute walk from Fukushima Station on JR Loop Line)
Cost: 2,000 yen
(includes a copy of the zine and 1 drink)
☆☆☆☆☆☆☆☆☆☆☆☆☆☆☆☆☆☆☆☆☆☆☆☆☆☆☆☆☆☆☆☆☆
出演者
Our performers for the evening include:
☆DJ Issei
☆James WackaWacka (VJ)
☆The Burro
☆Belgium Solanas + April Marti
☆Pirates of the Dotombori
☆Chomo
☆Warakudow+Yama
☆Plastic Mantra
☆Shoko Yamamura (live drawing)
Victoria Garafolaによる詩の朗読と、紙ひこうきマガジン編集部による動画の上映もあります。
As well as readings by Victoria Garafola and movie screening from the Kami Editorial Team!
We're also excited to introduce an interactive gallery featuring local crafts people, livepaint, and BYOS screen printing from JAM!
Vendors include:
☆Los Gatitos
☆Viva la Mort
☆Birds of Passage
☆Miyuki Nishikagi
☆Naoto Kita
☆centquarante